Innocence Project
Jazz for Justice Event Branding & Collateral
Scope of Project
Event Branding 
Print Design 
Creative Services
Project Management
The Innocence Project needed a powerful and beautiful event branding and a full suite of promotional collateral for an an exclusive fundraiser featuring the legendary Wynton Marsalis. This extraordinary event kicked off their 30th Anniversary and brought exonerees and supporters together to celebrate a shared love of jazz music and justice. 
We created a bold, fun, and vibrant identity for the event inspired by old jazz album covers. We had a great time carrying out the event branding through a gorgeous printed invitation suite, online communications, an animated logo, projections, and graphics for the event venue. The event 
Creating the Event Brand
We created a unique and powerful visual brand for this special event. We incorporated dancing typography, gold and foils, and a perfect image of Wynton Marsalis. Our designs honored the overall Innocence Project brand, but allowed for a huge splash of fun, movement, and sophistication for this one-time event. Motion graphics helped bring the our dancing typography to life! 
Designing the Invitation Suite
We worked with our clients and the event planners along with an incredible printer Step Visuals, to meticulously design this beautiful and exclusive invitation. Because of the pandemic the guest list for this fundraiser had to stay very limited so connecting to high-level supporters was important. The invite suite features an album-inspired folder which holds the invitation and RSVP cards. We used duplex gold paper, gold foil stamps, and bold typography to create a one-of-a-kind printed piece for this intimate and unique event.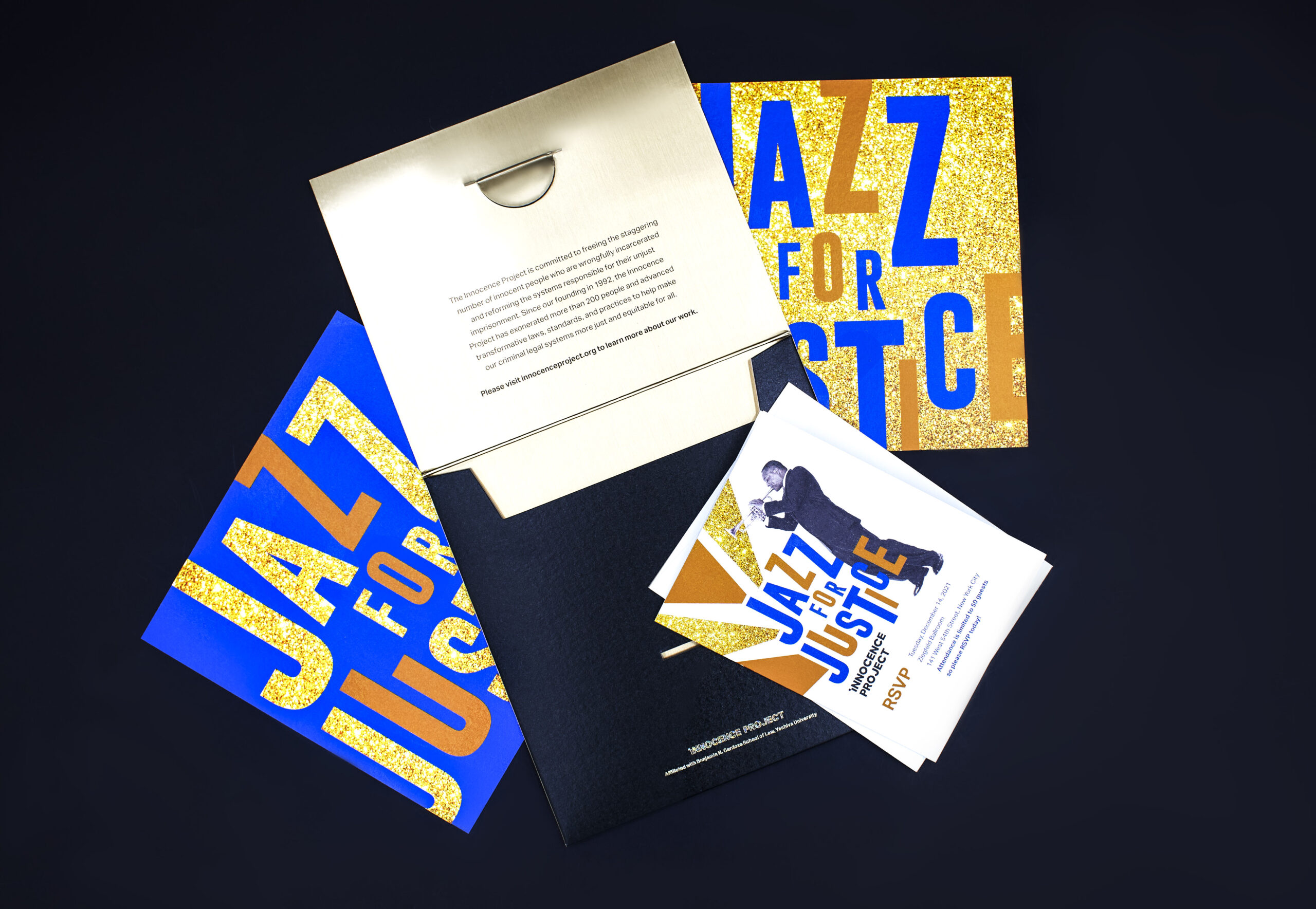 Branding the Digital Event Communications
We created email invitations, a fundraising web page for the event, and social media graphics using the strong event branding. The brand easily translated to the digital mediums helping give brand recognition when promoting the event.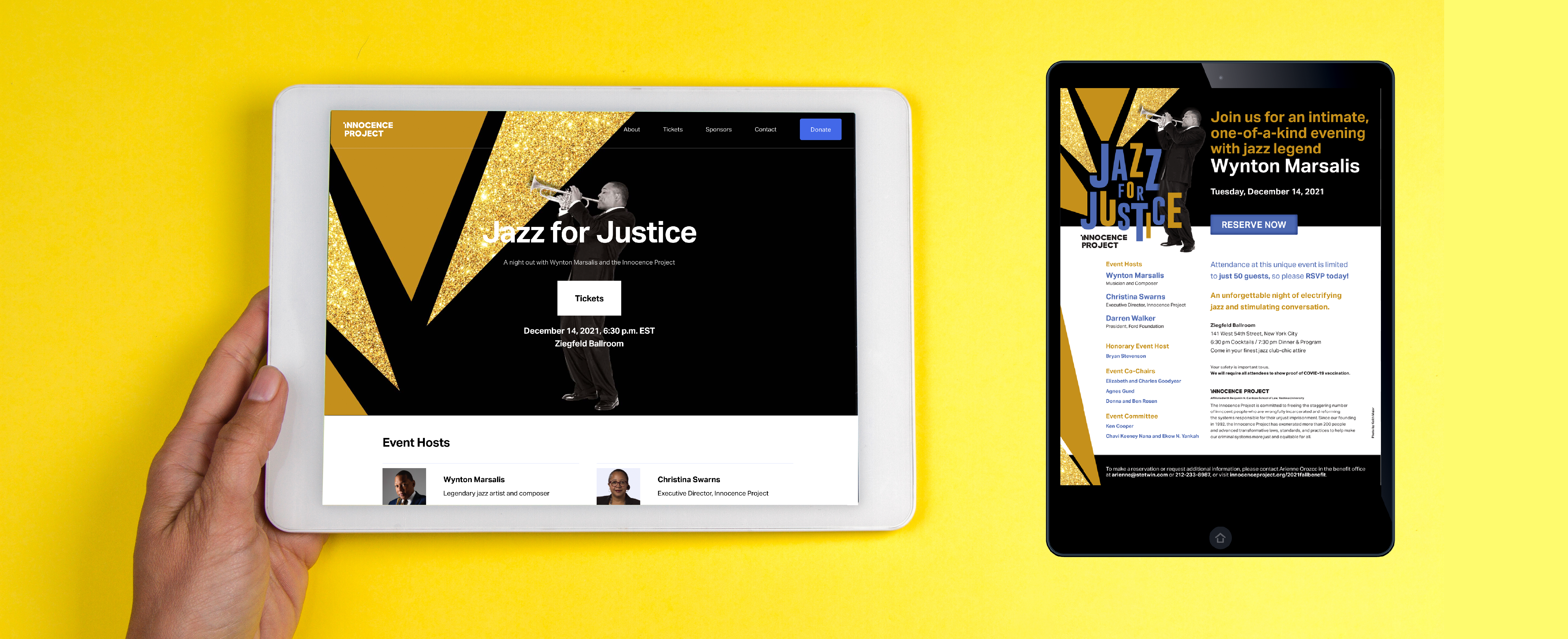 Branding the Event Venue
Projections, slideshows, and other small details brought the Jazz for Justice brand into the event space for a seamless and meaningful evening.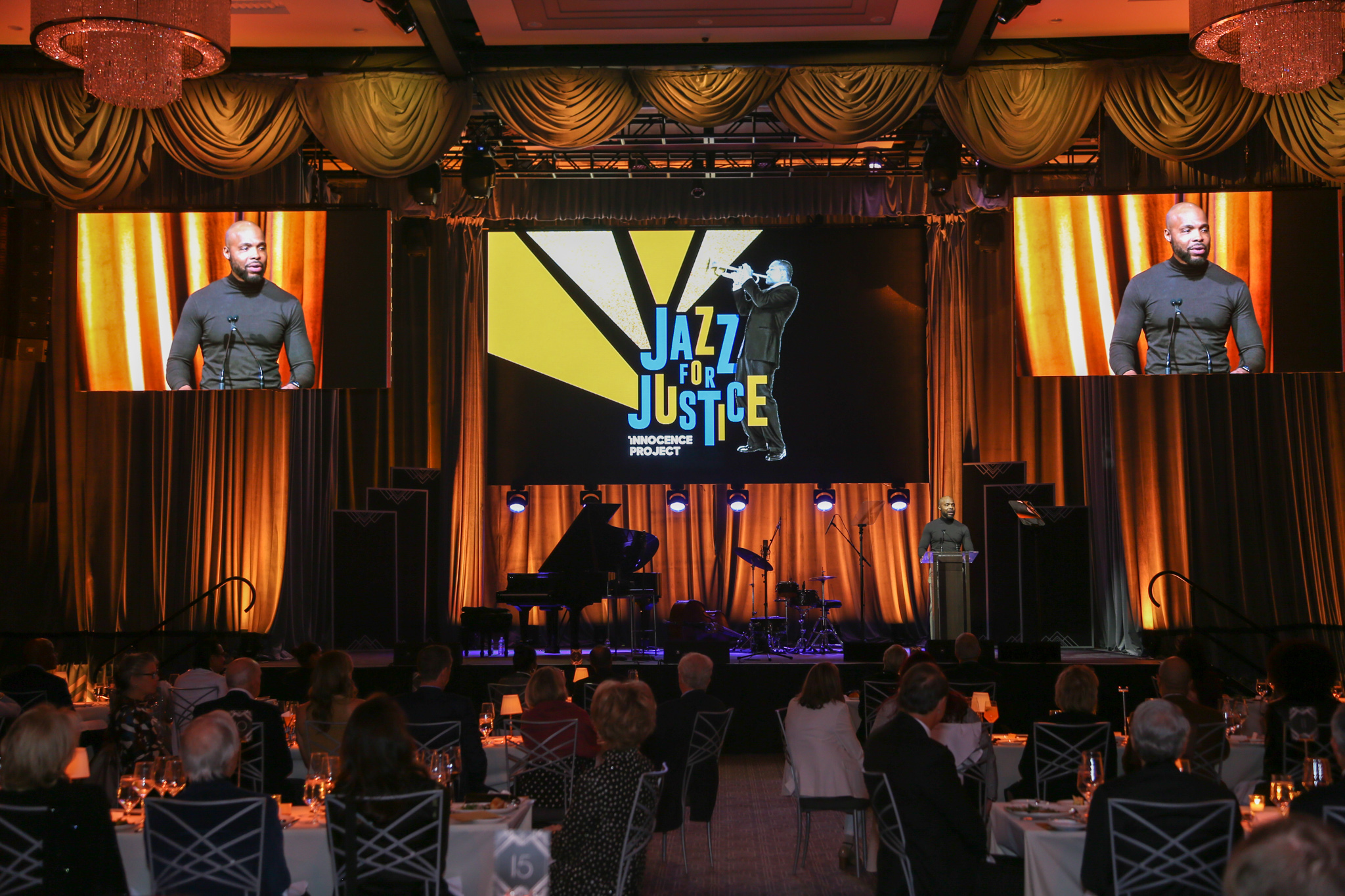 Event Images: Matt Cohen/Innocence Project