LifeScene
Website and Digital Deliverables
Scope of Project
Web Discovery 
Messaging and copyediting
Web Design
Email Template Design
Project Management
Lifescene, formerly Lynn Family & Children's Services, is a nonprofit organization that strengthens the life skills of families, youth, and individuals in communities north of Boston. 
The organization had recently rebranded and needed a variety of print and digital deliverables to bring their new brand to life. On the digital side they needed an entirely new website, new email templates, Microsoft Templates for letterhead and help setting up other branded digital communications. 
We did a major overahaul of LifeScene's digital communications including a new modern and clean website. We helped created user-centered messaging. We ensured the new site is responsive, can be translated into any language, and is ADA compliant.
We completed a full discovery phase and then wireframed, designed, and developed an entirely new website. We provided client training for making updates on their own and help streamline and upgrade back-end management systems for digital communications. 
A New Direction
After 85-years of history in the neighborhood it was important that we connect a loyal donor base with the new name and brand while also opening up to a wider audience. We created messaging and design that gives clear information about services to participants, and potential participants, in an easy and intuitive way. 
We wanted to make sure the new website promoted programs and encouraged community participation while showing impact to donors and stakeholders. 
Hover over image to scroll
Designed to Streamline
We helped streamline donations and communications for the organization on both the front and back-end: we integrated donation buttons, and newsletter sign up throughout the design of the website. We helped the client identify a donation platform that is able to act as their payment processor, email marketing, and donor database to streamline the marketing, fundraising, and communication efforts by staff.  We created created custom features in the WordPress website to make it  easy to manage and add new content.
We also host and maintain the LifeScene website through our Web Care Plan. Website care ensures that all the software and plugins required to run the website smoothly and securely are kept up to date.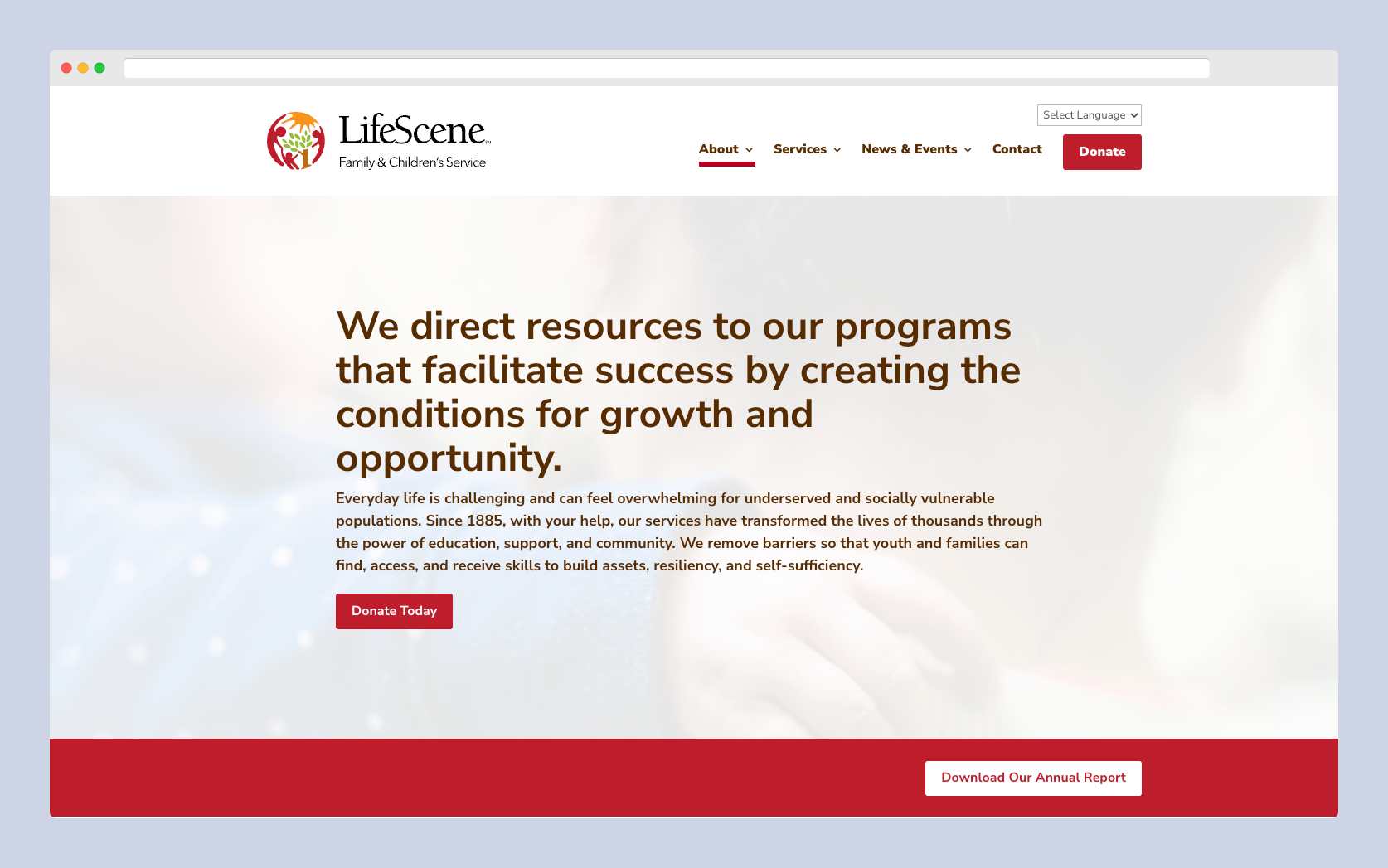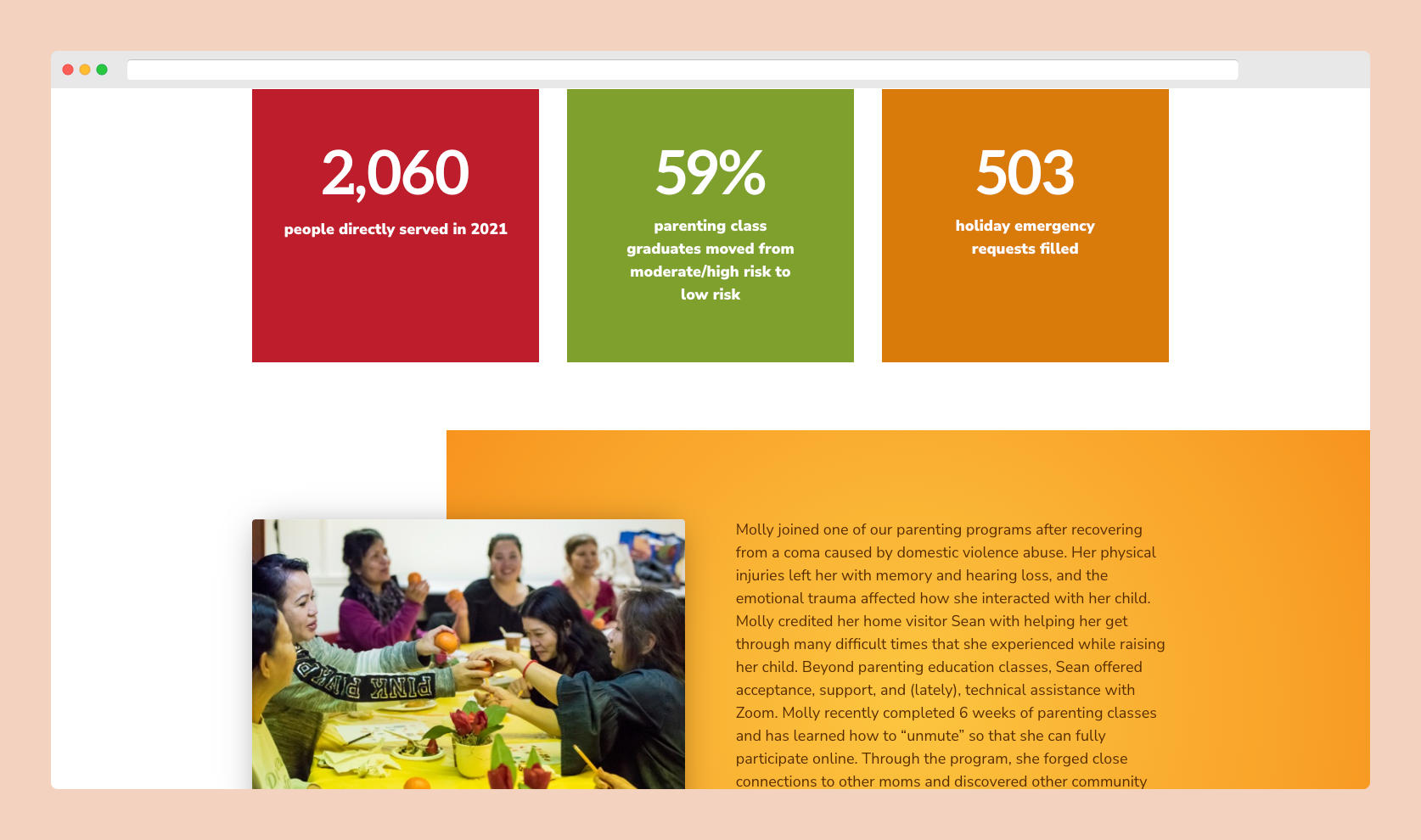 Constructing a User Journey
In our discovery phase, we collaborated with LifeScene to create a strategic user journey for target audiences across the entire website, uncover hidden content, and better reflect the LifeScene organization, mission, work, and history.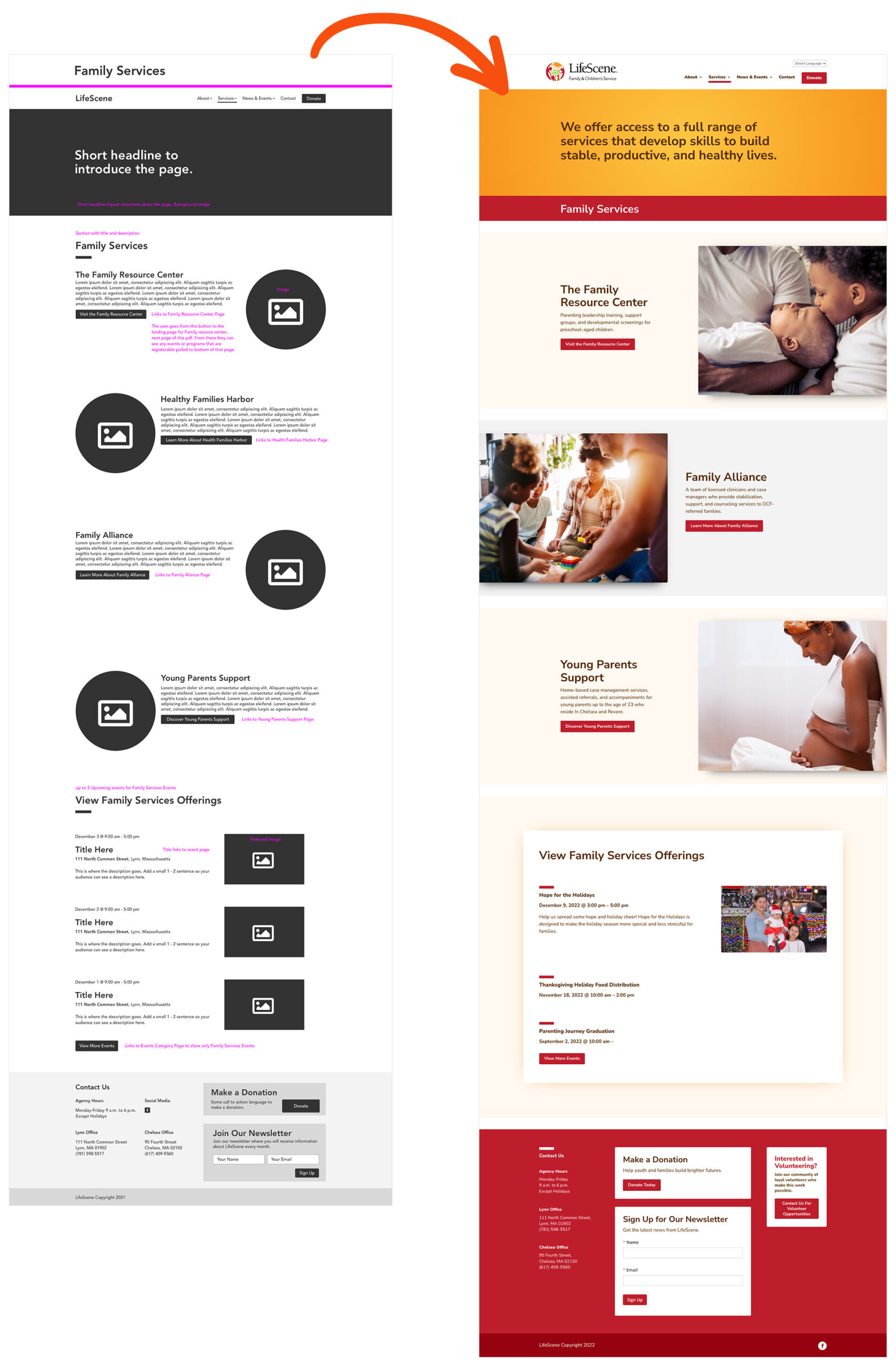 Upgrading LifeScene's Marketing Emails
We built a new system of email templates for LifeScene using the client's new nonprofit CRM software. We provide customized video tutorials showing the client how to use the template within their software. The templates included a newsletter template as well as event and seasonal templates so the client has an array of designs to start building any given communication. The newsletter template gives highlights of current events and draws users into the website to read recent news and explore, or register for, upcoming events.