Somerville Early Education
Scope of Project
Content Strategy
Web Design
Website Care
The City of Somerville needed to bring a vast array of cutting-edge early childhood resources, teaching guides, and curriculum information to educators throughout the city and beyond. Helping teachers easily find and access these resources was the primary goal for the site. We also needed to ensure the site was inclusive and accessible for all and was equipped with a great content management system to easily make updates and additions for many years to come. 
Through an extensive discovery and sitemap process we identified important content and resources and helped organize the site architecture. We created user journeys that help educators easily access best-practices in early education and we built a filterable library of resources where educators can read, download assessments, watch videos, and print the information that helps with their teaching and classrooms. 
Creating an Online and Accessible Resource Library
We helped our client collect and organize enormous libraries of early education content in order to create this online resource library. We then created the online curriculum library using best-practices for accessibility and responsive design and a translation function. The library can now be accessed by educators world-wide so that everyone can explore the wealth of resources Somerville has created for best practices in early education. The resource library is filterable and searchable by curriculum categories and subcategories so that teachers can easily browse and find what interests them.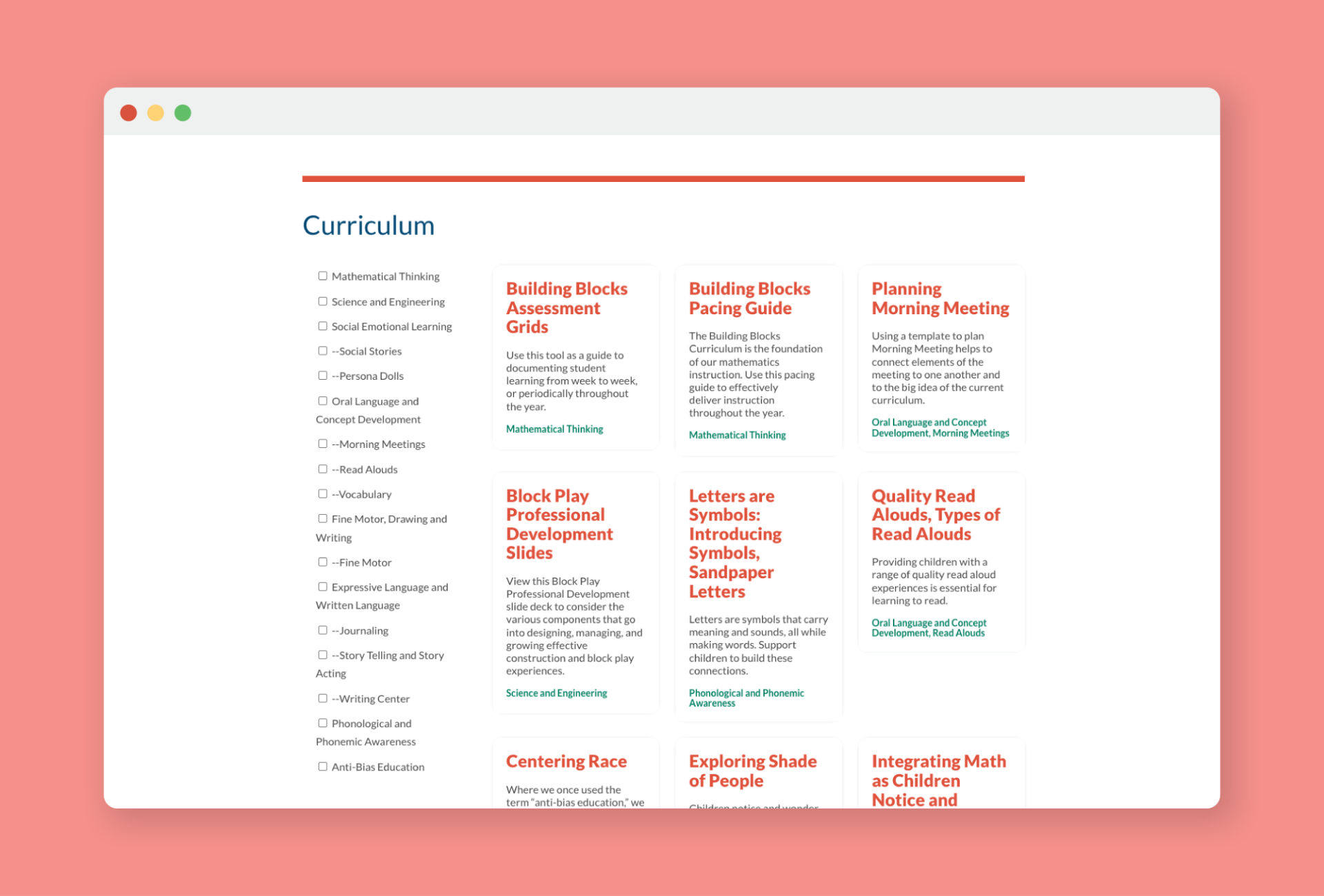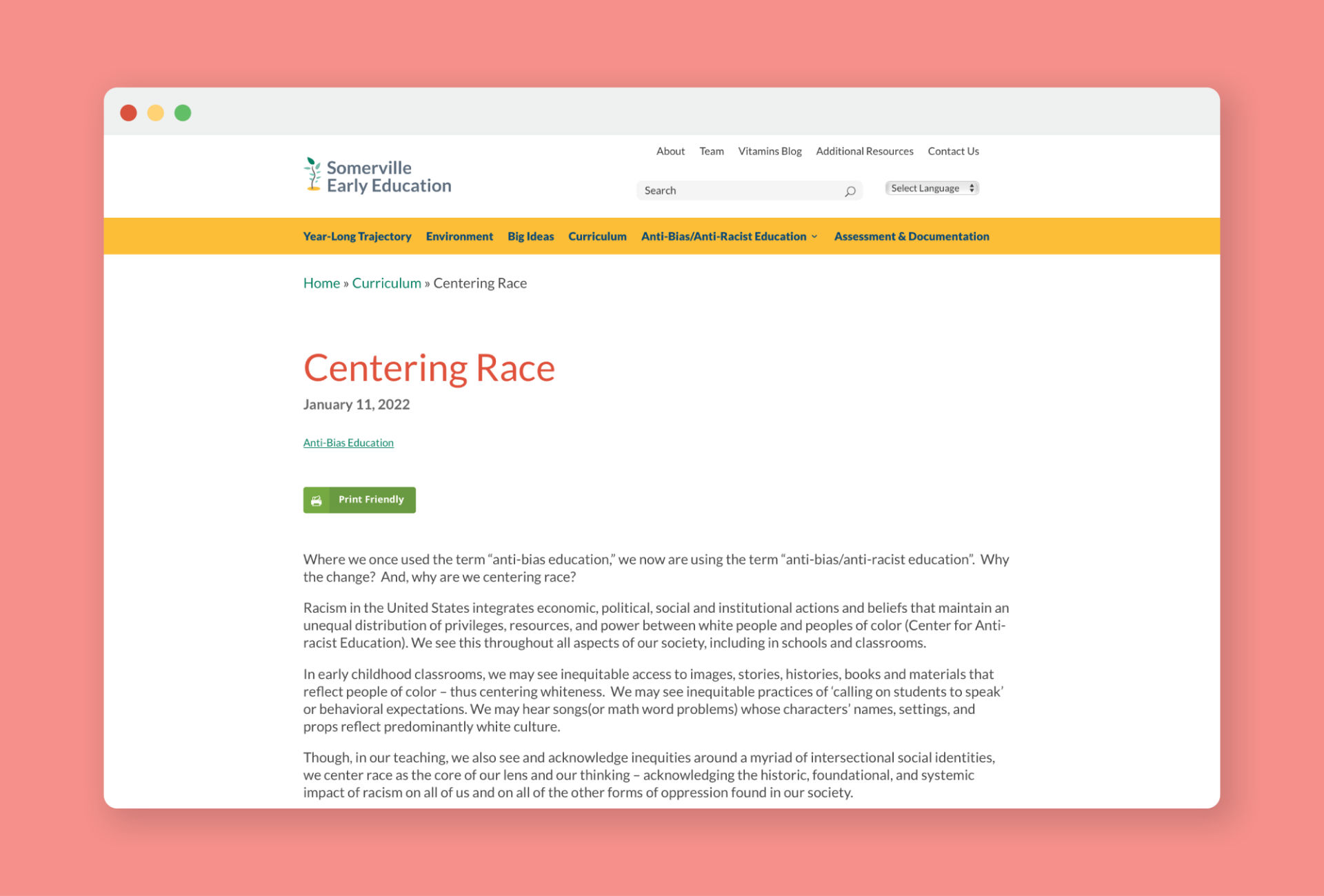 Designing the User Experience
The homepage design is used as a springboard to get users to other parts of the website that they may interest them most. By sharing small parts of each piece of the website on the home page, with an open and friendly design, users can scan to what they are looking for and easily move through the site to find relevant content. 
Hover over image to scroll
Creating a Welcoming and Inclusive Design
Photo shoots at local early childhood education programs helped bring a down-to-earth and welcoming feel to the design of the site. We also worked to help clarify the role of Somerville Early Education within the broader Somerville Public School ecostystem through clear messaging and unique, but related, brand visuals.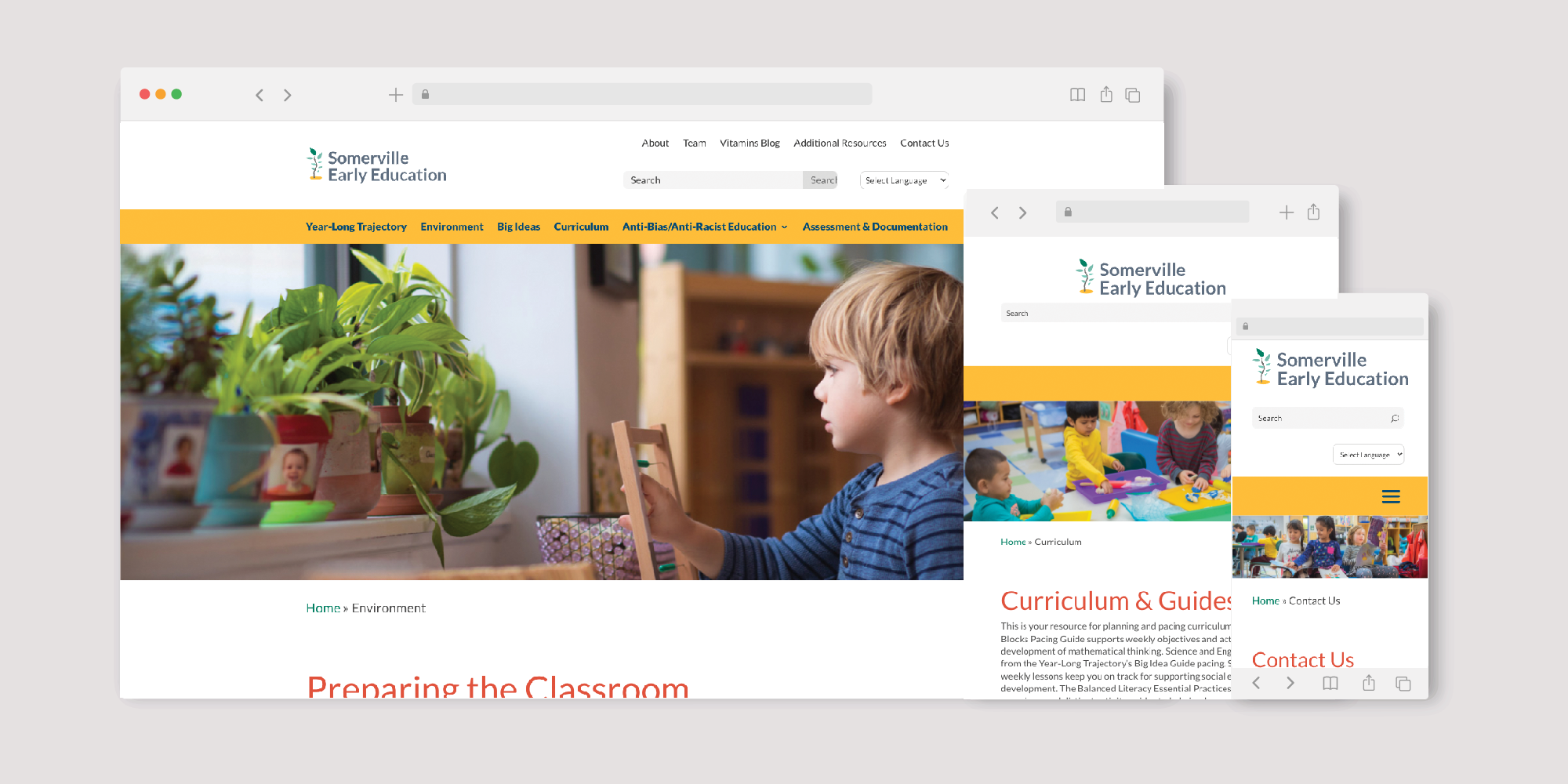 Streamlining Outreach Efforts
We helped our clients come up with a streamlined way to show existing email content they send out to their school district by creating a blog. The weekly "Vitamins" blog content can now be shared, filtered, and archived on the new website helping generate fresh content for the website while also creating a repository for the curriculum tips.